China high temperature wire manufacturer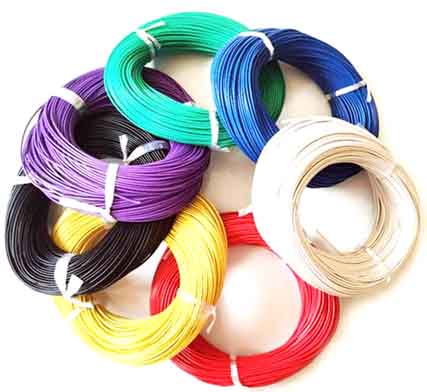 High temperature resistant wire Silicone rubber, PFA Teflon wire produced in accordance with the Q/TST-DL-001-2010 standard.
High temperature wire is a kind of wire that can withstand high temperature, usually solid core or stranded silver-plated or nickel-plated copper wire.
At the same time, it can also be customized according to user needs, according to the International Electrotechnical Commission recommended standards IEC, EU standards, British standards, German standards and American standards.
Product characteristics of high temperature wires:
2. Working temperature: -80~+250℃; can withstand 300℃ in a short time.
3. Conductor: solid core or stranded silver-plated or nickel-plated copper wire
4. Insulation: PFA, Teflon, silicone rubber
5. Color: red/yellow/blue/white/black/yellow-green/brown/orange/purple/green/etc
Features/applications of high temperature wires
It has corrosion resistance, resistance to oil, strong acid, strong alkali, strong oxidant, etc.; It has electrical insulation performance, high voltage resistance, low high frequency loss, no moisture absorption, and large insulation resistance; It has excellent flame resistance, aging resistance and long service life.
Can be used in the electronics industry: temperature compensation wire, low temperature resistant wire, high temperature heating wire, aging resistant wire and flame retardant wire; It can be used in household appliances industry: internal wiring of air conditioners, microwave ovens, electronic disinfection cabinets, electric rice castles, electronic hot water bottles, electric heaters, electric ovens, electric frying pans, lamps and lanterns, etc.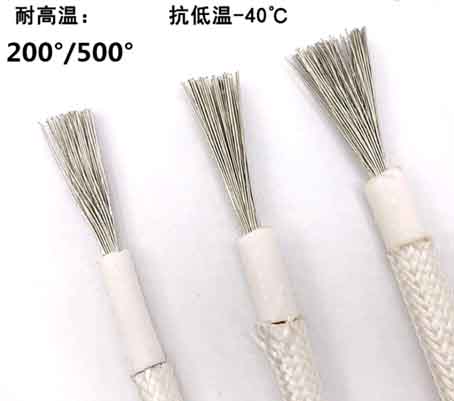 Material composition of high temperature wires
1. Wires made of heat-resistant materials: Refers to the insulation and protective cover material body resin has heat resistance. The main varieties are: polyurethane (up to 155°C), polyester (up to 135°C), polyvinylidene fluoride (150°C) and nylon (up to 115°C) insulation or sheath materials
2. Common materials are modified in various ways to achieve heat resistance: Heat-resistance modification of rubber materials (up to 135℃), modification of polyvinyl fluoride wires (90~120℃), modification of polyethylene cables (105~150℃), etc.
Application of high temperature wire
High-temperature wires are mainly used in industries such as communications, automobiles, motors, and construction. For example, it can be used as mobile flexible wires, rubber insulated flexible power cables, control wires, heat-resistant building wires, automotive wires, aviation wires, locomotive wires, electrical and electrical lead wires, etc.
Specification structure and technical parameters of high temperature wires
Nominal cross section

(mm)

Number of conductor structure/wire diameter

(mm)

Insulation thickness

(mm)

Average outer diameter

(mm)

Conductor DC resistance at 20 ℃

(Ω/km)

Length/Packing

(m)

0.035

7 × 0.08

0.20

0.60

525

500

0.05

7 × 0.10

0.20

0.70

330

500

0.08

7 × 0.12

0.22

0.80

227

500

7 × 0.15

0.25

0.95

150

500


  

0.12

7 × 0.16

0.17

0.82

126

500

0.14

7 × 0.20

0.30

1.20

83.5

500

0.20

19 × 0.16

0.30

1.40

49.5

500

0.35

19 × 0.18

0.30

1.60

36.0

200

0.50

19 × 0.23

0.35

1.85

22.7

200

0.75

1 × 0.97

0.26

1.49

22.7

200

19 × 0.26

0.35

2.00

19.0

200


  

1.0

19 × 0.28

0.35

2.10

15.3

200

1.2

19 × 0.32

0.40

2.40

11.7

200

1.5

19 × 0.37

0.40

2.65

9.45

200

2.0

19 × 0.41

0.50

3.10

6.86

100

2.5

37 × 0.37

0.50

3.60

4.51

100

4.0

37 × 0.45

0.50

4.20

3.05

100

6.0

133 × 0.28

0.5

5.20

2.16

100

8.0

133 × 0.32

0.50

5.80

1.68

100

10

133 × 0.39

0.60

7.00

1.13

100

16

133 × 0.45

0.60

8.0

0.886

100

25

196 × 0.40

0.6

8.8

0.734

100

35

494 × 0.30

0.7

10.4

0.511

100

50

396 × 0.40

0.8

12.2

0.358

100

70

551 × /0.40

1.0

14.6

0.270

100

95

760 × 0.40

1.2

17.2

0.210

100