Electrode Wire, Physiotherapy Wire Made in China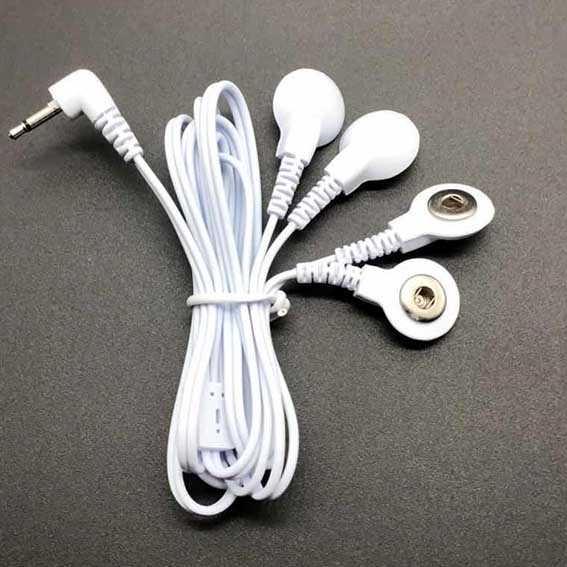 The conductive physiotherapy electrode wire produced by our company is a supporting product used in various high, medium and low frequency pulse physiotherapy apparatus and beauty apparatus. The product is made of glycerin, medical amide and a variety of strong adhesion of chemical materials and non-woven fiber and other combinations. It is soft, comfortable, safe and hygienic to stick on the human body and has no stimulation or side effects on the skin. Proper use can be pasted on various parts of the human body more than one hundred times. Conductive adhesive electrodes have special moisturizing and anti-fixation function, so it is not affected by climate change and the use and treatment effect. At present, the electrode sheet models are square, rectangular, round, oval, gourd-shaped, eight-shaped, palm-shaped, etc. The electrode cable has one tow two and one tow four, with pin type and buckle type. The size and specification of plugs can be configured and customized according to customers' requirements. We can design the appearance, silkscreen trademark and pattern according to your requirements.
We promise: our quality is close to or even exceeds the international and domestic similar products, but our price is much lower than the same quality products.
[Intended use]
It is used in conjunction with the medium and low frequency physiotherapy instrument and the Chinese medicine directional drug penetration therapy instrument to conduct the electrical pulse signal sent by the instrument.
[Specifications and Models]
Physiotherapy electrode pads (hereinafter referred to as electrode pads) are divided into two types: button type and wire type according to the connection method. LW type is non-woven material, LP type is foam material. DX is a special type of directional penetrating drug therapy instrument.
[Main technical parameters]
The basic size of the physiotherapy electrode
Model Specifications:
LW1, LW2, LW3, LW4, LW5, LW6, LW7, LW8, LW9, LW10, LW11, LW12, LP1, LP2, LP3, LP4, LP5, LP6, LP7, LP8, LP9, LP10, LW4060-1, LW4060- 2. LW85-1, LW85-2, LW50-1, LW50-2, LW42-1, LW42-2, LW30-1, LW30-2, LW6090-1, LW6090-2, LW80120-1, LW80120-2, LW5590-1, LW5590-2, LW60130-1, LW60130-2, DX4040N, DX50
| | | |
| --- | --- | --- |
| | | |
| 2.5mm button physiotherapy line | Wires for physiotherapy equipment and massage equipment | Physiotherapy Line |