Classification of high temperature wires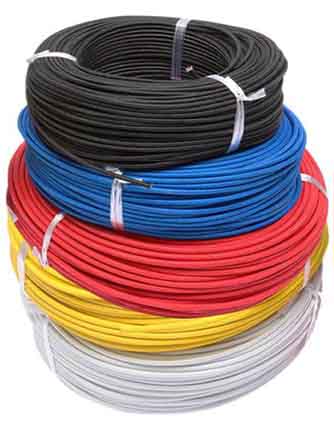 Commonly used high-temperature wires are: radiation cross-linked polyolefin, silicone rubber, fluororesin, polyimide, mica, magnesium oxide and other wires and cables. Long-term continuous working temperature 125℃, 135℃, 150℃, 180℃, 200℃, 250℃ and high temperature resistant wire and cable above 250℃. High temperature resistant wires and cables are needed in aerospace, rolling stock, energy, iron and steel, non-ferrous metal smelting, petroleum exploration, and electric motors. Now introduce; two new types of high temperature resistant wires and cables.
1. Polyethersulfone (PES) insulated wire has excellent heat resistance, physical and mechanical properties, electrical insulation properties, and extrusion moldability. In particular, it has outstanding advantages such as continuous use at high temperatures and stable performance in environments with rapid temperature changes: The heat distortion temperature is 200-220°C, the continuous use temperature is 180-200°C, and the UL temperature index is 180°C; It can withstand 150-160° C hot water or steam, and is not corroded by acids and alkalis at high temperatures; The modulus of elasticity is almost unchanged at -100--200°C, especially above 100°C, which is better than any kind of thermoplastic resin; The linear expansion coefficient is small, and its temperature dependence is also small; It is non-toxic, recognized by the US FDA, and also meets the requirements of the Japanese Ministry of Health and Welfare Announcements No. 434 and No. 178; It is self-extinguishing and has excellent flame retardancy without adding any flame retardant, which can reach UL94V-0 level (0.46mm).
2. Polyetheretherketone (PEEK) insulated wire. Polyetheretherketone is a thermoplastic resin with super heat resistance. The long-term continuous use temperature is 250 degrees, and the UL temperature index is 250 degrees. PEEK is a flexible resin with good creep resistance. It is self-extinguishing and can reach UL94V-1 (thickness of 0.3mm), 94V-0 (thickness of 1.5mm), 94V-5 (thickness of 3.2mm) without any flame retardant.