Circuit Connector and Wiring Harness Manufacturing
A circuit connector is a coupling device that connects electrical terminals to form a circuit. With the help of connectors, the connection between wires, cables, printed circuit boards and electronic components can be realized. At YAXUN, we design and manufacture a variety of connector harness product portfolios that can reliably transmit data, power and signals in the most severe environments and under the most extreme usage scenarios. Our connector harnesses can achieve higher performance while reducing application scale and power consumption. Our audio and video connectors provide enhanced board retention and EMI shielding capabilities. Our automotive connectors can withstand harsh road and off-road transportation conditions. Our card edge connectors and sockets support current generation SDRAM and DDR memory, new DDR2, DDR3 and DDR4, and FBDIMM generation modules. Our LUMAWISE LED base provides snap-in LED retention function, no soldering is required; It uses plug-in wire connection, and can complete the termination of solid wire, fusion wire and stranded wire without tools. In our connector product portfolio, we provide powerful solutions to improve the connectivity of critical systems.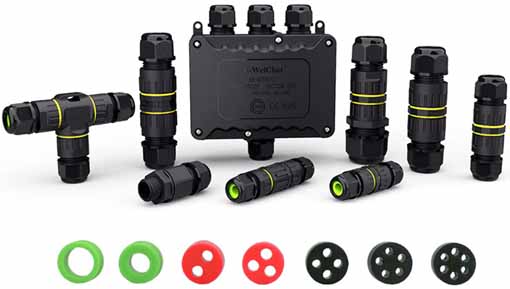 Introduction
Electronic connectors are also often referred to as circuit connectors, electrical connectors. A conductor device that bridges two conductors on a loop so that current or signals can flow from one conductor to another. It is widely used in various electrical circuits, and plays the role of connecting or disconnecting current or signal. This connection may be temporary and easy to plug and unplug at any time, or it may be a permanent junction between electrical equipment or wires.
Electronic connectors are devices that transmit electronic signals (analog signals or digital signals). A separate interface can be provided to connect two secondary electronic systems, which are used to complete electrical connections between circuits or electronic devices. Such as: power plug/socket, IC socket, telephone line plug, etc. It is widely used in the electronics industry.
An electronic connector is a circuit system that can provide a separable interface to connect two secondary electronic systems. Simply put, the components used to complete the electrical connection between circuits or electronic devices are called connectors, which are bridges between the two.
Classification
1. According to the soldering method, it is divided into: DIP type (eg: PCI 120P), SMT type (eg: MINI PCI EXPRESS)
2. According to the appearance, it can be divided into: external type and internal type
(1) External types include:
I/O: D-subminiature connector (also known as D-SUB connector), USB, 1394, DDR, VGA, SCSI, etc.
CARD: SD, SIM, NEW CARD, etc.
JACK: RJ11, RJ45, etc.  RF
power supply
Other: SCSI, DVI, etc.
(2) Internal types include:
Flexible circuit board (FPC): ZIF
HDD: BOX, PIN-Header&Socket
Edge Card: AGP, PCI
CPC Socket: 478, SLOT-1, SLOT-2
Memory: DIM, SO-DIM
Other: MINI PCI
Circular connector


This type of connector uses a circular interface and shell design, which can quickly and easily connect and disconnect signal, power, and optical circuits. Circular connectors are usually the first choice in aerospace and industrial applications: It can be connected and disconnected without using a coupling tool (such as a torque wrench). YAXUN's circular connectors can provide rugged and durable solutions with reliable performance in various harsh environment applications.

Circular connection terminals are components of circular connectors, which are used to transmit signals in the connection. They are usually connected to each strand of wire in the cable using a crimping tool (a type of solderless crimping mechanism). Before closing the connector tail cover, each terminal passes through the connector housing and the circular connector insert. Each terminal can be replaced individually, without the need to replace the entire connector. Circular connector terminals usually provide matching male and female connector versions. They are usually made of brass, steel or gold plating. Circular connector terminals are used in YAXUN circular connectors, suitable for the following applications: military, marine, commercial and industrial operations.

The circular connector insert is the insulating core of the connector. The insert is located in the center of the connector and can correctly fix the terminal in the housing. The insert is made of an elastic dielectric material casting and can be placed in the connector housing and supports the connector terminals. These inserts are specially processed to suit different housing sizes and terminal arrangements. The circular connector insert can be easily assembled by simply installing the appropriate buckle into the required connector housing. The circular connector insert is dustproof and not affected by common oil and salt water. It is often used in various harsh environments in food processing, general manufacturing and shipbuilding industries.

The pin (male end) crimp terminal is used in conjunction with the CIRPH connector series. There are two types of gold-plated and silver-plated, with various sizes.

The socket (female) crimp terminal is used in conjunction with the CIRH connector series. There are two types of gold-plated and silver-plated, with various sizes.

The socket (female) crimp terminal is used in conjunction with the CIRP connector series. There are two kinds of gold-plated and silver-plated, with various sizes

MALE INSERT, CRIMP, 4-POS. 22DF CONTACTS

DIN connector

The DIN connector contains a variety of electronic cables, which can be plugged into the interface to connect to the device. Full-size DIN connectors usually have 3 to 14 straight pins with a diameter of 13.2, and the pins are located in a metal shield. The bezel adopts a keying design, allowing you to insert the plug correctly without damaging the pins.

DIN connectors comply with DIN standards, not just a special cable. The DIN connector standard was formulated by the German National Standards Organization Deutsches Institut für Normung (DIN). The DIN standard includes high-frequency functions and the following marking features, such as metal protective housing and notched round terminations. This structure ensures that the DIN connector is mated with the correct mating connector. Our DIN connectors are carefully designed to be used in a variety of data communication applications, including interfaces as antenna line services, audio equipment, computer serial ports, and keyboard and mouse connectors.
Connector terminal

The connector terminal is usually a pin or socket on a conductive part of a circular connector that transmits power, but can be any conductive terminal between two connectors. Connectors must have terminals in order to work under rated voltage and current specifications, environmental conditions, and specified mechanical and physical loads. All terminals shall provide a stable connection between the terminal barriers. It is recommended to use the same terminal material on each side of the connector to keep the specifications consistent. If the connector is not connected to the proper and correct connector housing, it is easy to fail prematurely. We provide connector terminals with various characteristics according to application requirements. There are a variety of metals, sizes, lengths, and surface area ratings to choose from. Connector terminals are used in circular connectors and are suitable for the following applications: military, marine, commercial and industrial operations.

2.5mm Sealed Connector: Terminals, Signal Double Lock Connectors
Socket Contact, Size 15
Circ. HD Recept, Socket contacts, Jam Nut
MALE INSERT CRIMP, 8-POS. TYPE III+
Round power connector
CMC Series 1 is a metal shell circular plastic connector (CPC) for added strength and protection. Shell sizes are 14-5, 14-7, 22-16, 28-24 and 28-37

The CPC Series 1 cable or panel mount connector accepts durable Multimate terminals, enabling the application of multiple combinations of signals and coaxial circuits in the same sheath. 4 to 37 digits.

CPC Series 3 connector with power up to 47A. 3-7 positions, compatible with XII type "box" power terminals. The terminal wiring range is 16-10 AWG.

CMC Series 4 is a metal shell circular plastic connector (CPC) for added strength and protection. Shell size is 28-16M and 28-22M