Wiring Harness for Audio and Video Connectors
These connectors are designed for high-speed, high-definition transmission of audio, video, and high-speed serial data. These products can reduce application size, reduce power consumption, and improve performance at the same time. The YAXUN connectors in this catalog provide additional features such as enhanced board retention and EMI shielding to provide reliable and durable connections in demanding applications. We provide a diversified portfolio of audio and video connectors and high-speed serial connectors to meet the ever-changing global interconnection needs covering all walks of life. Our interconnect solutions include high-speed, high-density plug-in connectors, consumer I/O connectors, older ultra-small D connectors, and modular socket connectors.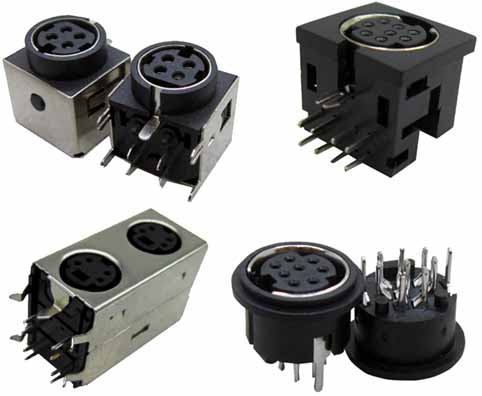 Reliable and durable solution for connecting media
In the field of computers and audio-visual equipment, these products can provide reliable and consistent digital data transmission, generating excellent high-definition video and audio. In digital television (DVI) players and set-top boxes, these products provide high bandwidth and multiple locations to support video and multi-channel audio. With YAXUN connectors, you can make audio, video, and computer equipment more reliable. We are committed to improving customer satisfaction through innovative design, high-quality material selection, ISO-certified manufacturing process, precise product testing, and trustworthy customer service. We work with various standards committees and organizations to design a new generation of I/O products.
Audio signal connector
The system includes an insulating shell, one end of the shell is provided with a jack, and the side of the shell opposite to the jack is provided with a first elastic terminal. The first elastic terminal is bent and formed in the direction of the insertion hole to form a bent portion, and the other side of the housing opposite to the insertion hole is provided with a fixed terminal. A second elastic terminal and a third elastic terminal are respectively arranged on both sides of the fixed terminal, and an insulating elastic piece is fixedly arranged at the top of the third elastic terminal. A ring block is arranged between the first elastic terminal and the second elastic terminal at the other end of the socket relative to the opening edge. The ring block is provided with a positioning hole in the same direction as the insertion hole, by means of the positioning hole of the ring block. When the plug is inserted into the jack, the front end of the plug will be limited in the positioning hole, so that the plug obtains the tightness of the opening edge of the jack and the limiting effect of the positioning hole. Therefore, even if it is accidentally impacted by an external force, the plug will not shake relative to the connector, so the service life of the audio signal connector can be prolonged.
DIN connector
Our DIN connector product portfolio is specifically designed to ensure reliability in harsh environments. These connectors are carefully designed to provide a reliable connection for data communication. Can be used as audio equipment, computer ports, and keyboard and mouse connectors.
6 CIRC DIN RCPT GRND SHLD
Mini DIN, 4 pos, R/A, Shield
8 CIRC DIN RCPT GRND SHLD
Mini DIN, 6 pos, Vertical, Shield
Mini DIN, 6 pos, R/A, Shield
8 CIRC DIN RCPT GRND SHLD
DisplayPort connector

Presenting high-definition media content
Audio/video connector designed according to the DisplayPort standard. These new products help to present high-definition media content on computers and audio visual components. Our cable assemblies have passed a comprehensive battery test conducted by an independent VESA authorized testing center, resulting in full certification as defined in the DisplayPort specification version 1.1a. These certified cable assemblies are based on consistent digital data transmission over 1, 2 or 4 main link channels, with a transmission rate of 1.62 Gbps per channel (low bit rate) or 2.7 Gbps per channel (high bit rate). This will bring high-definition, high-quality video to computer and consumer applications

Product Features
For new display purposes
Designed to replace DVI and VGA connector interfaces
Smaller user-friendly external connector
Support embedded clock
Excellent EMI shielding function
Scalable performance in terms of resolution
With higher color depth, display resolution and refresh rate
Optional locking function can prevent the cable from detaching
RoHS compliant
HDMI connector

All-in-one digital audio and video
High Definition Multimedia Interface (HDMI) is a specification that combines video and audio into a single digital interface. The friction lock design provides safe electrical contact and smooth cable insertion and extraction, suitable for DVD players, digital television (DVI) players, set-top boxes, and other audio-visual equipment.

HDMI connector features
Fully shielded, providing electrostatic discharge protection
Provide lead-free process
With or without panel flange
DVI female terminal
Designed for reliable high performance
Our digital visual interface (DVI) female connectors are designed to meet the Digital Display Working Group's DVI specification, while providing easy-to-use plug-and-play connectivity and serial digital data transmission that reduces electromagnetic interference (EMI) and crosstalk Features. Our high-definition video applications can meet the requirements of all aspects of the PC industry, allowing the use of a single display interface specification. This single display interface specification facilitates the transition from analog to digital video display design. It supports both analog and digital interfaces, and allows end users to connect to the display through a DVI connector device no matter what display technology they use.

Select application
Set-top box
High-end TV/monitor
Video graphics applications
workstation
Personal computer
Retail business equipment
IEEE 1394 connector
Peripheral device control
The IEEE 1394 connector series consists of six-position connectors (used to connect computers to peripheral devices) and four-position connectors (used to connect digital AV equipment). It can adapt to data rates of up to 400 megabytes per second for serial transmission. We provide thread size M1.6 and two types of joints:
Dual inline package (DIP) and surface mount technology (SMT). These four-position connectors can help us manage a variety of device designs and are suitable for DVDs, set-top boxes, etc. Four-position-to-four-position cable assemblies for AV equipment are also provided;
Four-position to six-position transfer type cable assembly for PC and AV equipment and six-position to six-position type cable assembly for PC and peripheral equipment.
USB connector type

Reliable universal connector
TE's connector system can accommodate two differential data lines that provide two-way synchronization signals for full-speed 12Mbps or low-speed 1.5Mbps data transmission used in Universal Serial Bus (USB) systems. This TE system is designed for user-friendly applications out of the box and consists of a single four-pin on-board socket and plug-in cable mounting injection molded plug. The on-board sockets have standard, B-type, stacked and side-by-side structures, which increase the versatility of the system and can meet the needs of a variety of USB applications.

USB connector specification
Allow charging
A wide range of on-board sockets, using a variety of different orientations and PCB mounting methods
Suitable for all USB sizes and types of cable installation injection molded plug kits
Integrate serial and parallel, keyboard, mouse and game ports
Compatible with asynchronous and synchronous data transmission methods
Polarization for correct orientation
Plug and play function
Hot-swappable, allowing peripheral devices to be installed or removed without shutting down or rebooting