Power Line + Optical Fiber + Control Line Three In One Flat Cable
product name:
Power line + optical fiber + control line three-in-one flat cable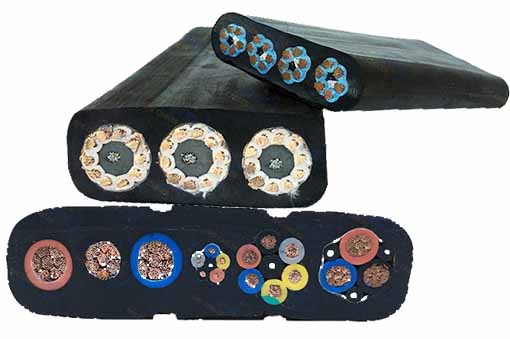 Applications:
This three-in-one flat cable product has the characteristics of cold resistance, softness, wear resistance, and oil resistance.
The three-in-one flat cable is suitable for AC rated voltage 0.6/1KV and below.
It is used for power transmission lines and control, lighting, and communication lines for mobile electrical appliances such as cranes, cranes, shuttle cars, mining carts, and transmission machinery that have special requirements such as cold resistance and oil resistance.
This product has been widely used in metallurgy, electric power, shipbuilding, ports and other industries.
Product implementation standards
Q/HHTZH007.3, the flame-retardant performance test implements the regulations of GB12666.5-90
Features used
1. AC rated voltage: U0/U 0.6/1KV
Maximum working temperature: 105℃
Minimum ambient temperature: -40℃ for fixed installation
2. The cable installation temperature should not be lower than -25℃.
Main technical indicators
1. Finished cable conductor (R type) DC resistance (in line with GB3956 regulations).
2. The insulation resistance is not less than 50MΩ/KM at 20℃.
3. The finished cable will not be punctured under the test of AC 50HZ3.5KV/5min voltage.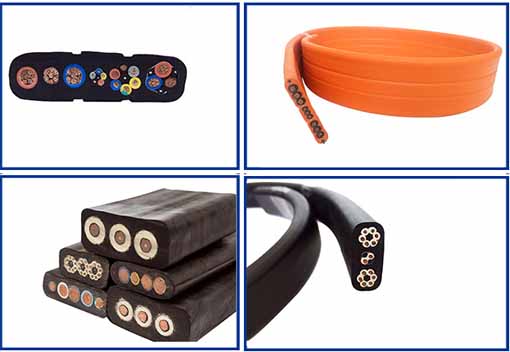 The structure of the cable:
Conductor: Multiple strands of ultra-fine finely stranded oxygen-free copper wire, in line with VDE0295CLASS 5 standard.
Insulation: special mixed PVC insulation
Color: The sheath is black, the core wire is multi-colored and numbered, referring to the JISC3306 standard.
Black and white numbers and white numbers are in line with the IEC227 standard.
(If you need a yellow-green ground wire, please specify)
Inner lining: special non-woven fabric wraps and cushions.
Steel wire: Two self-supporting steel wires without torsion, bearing the tension generated during operation.
Sheath: Special mixed PVC sheath, black (RAL9005).
Detailed parameters:
Rated voltage: ≤1.5mm:300/500V
≥1.5mm:450/750V
Test voltage: ≤1.5mm:2500V
≥1.5mm: 3000V
Operating temperature range: -25℃ to +105℃