Shielded Rubber Sheathed Flexible Cable for Coal Mine
Reinforced, shielded, rubber sheathed flexible cable for coal mine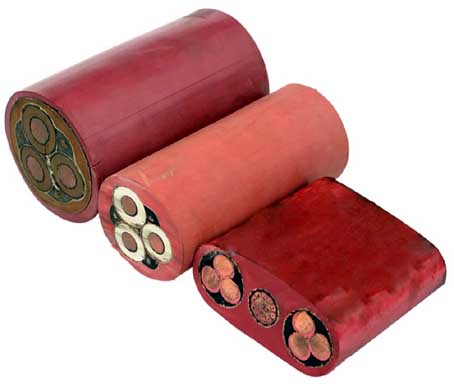 Cable name:
Kevlar braided reinforced flexible cable for MSPB coal mine shuttle car
Cable application:
Connection cables for the power supply of shuttle cars and equipment in various mines
Power connection cables for mobile or semi-mobile automation equipment, control cabinets, mechanical engineering, etc. in explosion-proof areas
Cable structure:
Conductor: stranded bare copper wire or tinned copper wire, in line with the provisions of 5.1 in MT818.1-2009
Insulation: XJ-30A rubber
Insulation shielding: semi-conductive extrusion or wrapping of semi-conductive tape. Meet the requirements of MT818.1-2009 in 5.3.
Core wire: core wire twisted into a cable, color or coded core wire. Meet the requirements of 8.2 in MT818.1-2009.
Reinforcement layer: Kevlar fiber weave
Sheath: HX-03A rubber
Sheath color: yellow, (0.66/1.14KV), black (1.9/3.3KV)
Cable characteristics:
The long-term working temperature of the cable should not exceed 65℃
Reliable circuit safety protection performance
Moisture resistant and able to withstand high mechanical stress
Flame retardancy: meet the requirements of single vertical burning test in MT818.1-2009 and bundle burning test in MT818.1-2009
technical parameter:
Working voltage: 0.66/1.14KV 1.9/3.3KV
Test voltage: 3700V/5min 6800V/5min
Insulation resistance: in line with the requirements of Table 5 in MT818.5-2009
Bending radius: 6 X D (outer diameter of the cable)
Working temperature: fixed installation -20 ~ +65℃